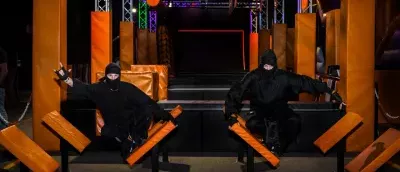 SEN Sessions
These sessions have no music, loud announcements or flashing lights, and less people.
About SEND Session
SEN Session are on Sundays 5:15 to 6:15pm
Price
1 hour session costs £12, i-go offer of one carer goes free applies.
You can book here and need to select a Sunday and then SEN sessions
About Ninja Arena Eastbourne
Ninja Arena Eastbourne is an activity and fitness venue. You can climb, balance, jump and swing across different obstacles using and developing your Ninja skills, and there's the famous Warped Wall for every aspiring Ninja to conquer. Suitable for age 5+ and adults of all ages. There are also special sessions for Mini Ninjas age 5 and younger.
Ninja Arena now have SEN sessions on Tuesdays betwen 1-2pm (Term time only). These sessions have no music, loud announcements or flashing lights, and less people. You can book by using this link and selecting a Tuesday Book an SEN session
Learn more about Ninja Arena Eastbourne
Accessibility
Wheel Chair Accessible venue
Wheel Chair Accessible Entrance
Wheelchair Accessible Lift
Disabled Parking & Drop-off
Blue Badge
Designated Disabled Parking
Drop-off Area
Accessible Toilets
Toilet Hoist
Grab/Drop Down Rails
Baby Changing Facilities
Quiet Times
Special Sessions
There are flashing lights
There can be sudden loud noise
We have characters in costumes
Location
unit 20B 56 The Beacon
Eastbourne, BN21 3NW