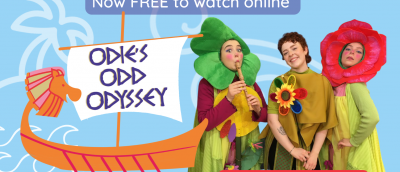 Odie's Odd Odyssey Free multi-sensory interactive video
Created for a special needs audience but accessible to everyone, Odie's Odd Odyssey is a multi-sensory interactive video.
Makaton signed throughout, with plenty of singing, every scene is designed to be performed alongside the viewer, making it a fun sensory experience.
Just download your free resource pack from the Head2Head website, gather all the bits and bobs you need, press play and set sail with Odie and his crew!
The video and accompanying playlist can be found on YouTube watch the video
Head2Head ask for a suggested £10 donation or whatever you can afford after watching the video, it's also possible to buy the recorded show on a USB stick. Find more information at the Head2Head website
About Head2Head Sensory Theatre
Head2Head makes theatre that is fully accessible and inclusive for all, offering immersive and multi-sensory productions that are lively and full of fun for everyone. Enjoy the magic of theatre, experience the sights, sounds and scents of a different world.

Learn more about Head2Head Sensory Theatre
Accessibility
Live performances are given in special schools and are inclusive, accessible and multi-sensory. Professional actors use Makaton and other communication aids.
Virtual and Interactive activities can include Makaton signing and versions with a sign interpreter. Packs are also given in advance that include a Widgit storyline and guidance on how to help participants enjoy the interactive and sensory elements of the video. See website and individual shows for more details.