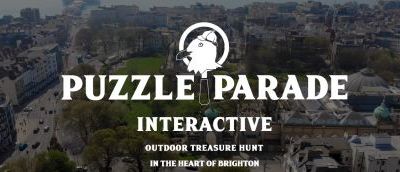 Paradox Puzzle Parade
Brighton
Imagine the offspring of the best treasure hunts and escape rooms. You're probably thinking about something close to Puzzle Parade.
You and your team will embark upon an adventure that fires both your brain cells and imagination.
You'll see the best of Brighton in a new light. With time to immerse yourselves in our vibrant city and explore the quirky cafés and shops whilst saving the world!
Puzzle Parade boasts specifically designed interactive technology to give surprising moments along the way.
Accessibility
Wheel Chair Accessible Entrance
The Puzzle Parade experience is an outdoors treasure hunt/Escape room around the streets of Brighton- which is wheelchair friendly as the only access needed to the building is via the Gift Shop.
Puzzle Parade takes place on the streets on Brighton
Offers & Events
Location
94 Gloucester Road
Brighton, BN1 4AP
This page was last updated on 05 May 2022