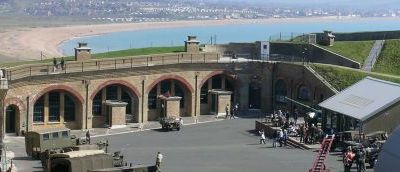 Newhaven Fort, Wave Leisure Trust
Newhaven
At Newhaven Fort there's lots to explore including vast, echoing tunnels built into the chalk cliffs, and the ramparts found in the 10 acre-site. There's also an on-site military museum that includes a recreated Air Raid shelter and an outdoor playground.
Wave Leisure Trust is a charitable not-for-profit Trust working to inspire active lifestyles through providing high quality, affordable and accessible health and fitness facilities and activities for our community.
Food & Drink
People with special dietary requirements can bring their own food.
Accessibility
The Fort was built in the 18th century so physical access is limited in some areas
There are 10 steps to the ticket office on entry but staff can open the main gate for step free access
The exhibition rooms all have ramps, are wheelchair accessible and are all on one level
The shop and cafe are wheelchair accessible
The tunnels and ramparts are not wheelchair accessible
The Caponier has 72 stairs to the bottom
The South of the Fort is up a hill including the Grand Magazine (wheelchair access from the second entrance) and the ramparts
Disabled Parking & Drop-off
Designated Disabled Parking
There are 2 allocated accessible car parking bays in the moat (just outside the main entrance).
Visitors should follow the signs up Fort Rise rather than following signs to the general car park.
Drop off and pick up access into the fort is immediately outside the entrance tunnel – please call ahead for assistance.
There is a slope up and down to enter from both the main car park (fairly steep 30 metre slope downwards)
The accessible bays (more gentle slope upwards) with no rails and the entrance for all is up a slope through a wide high tunnel (including the drop off point)
Accessible Toilets
Grab/Drop Down Rails
Baby Changing Facilities
The acessible toilet is in the entrance tunnel
There is a radar key for the accessible toilet on request at the shop
Baby changing tables in both men's and women's toilets
There are flashing lights
There can be sudden loud noise
We have characters in costumes
When you buy your tickets ask for a special i-go map which highlights the exhibition rooms that are particularly noisy/dark/have flashing lights.
During special events there can be gunfire, see website or call for more information
There can be flashing lights in the air raid shelter (not strobe lighting)
The 1st World War room entrance near the Caponier is dark - Please use the other entrance if you wish to avoid this
There can be people in costume on special event days, normally heads aren't covered. Halloween costumes are used. Please see website or phone to ask for more information
Offers & Events
Location
Fort Road
Newhaven, BN9 9DS
Gallery