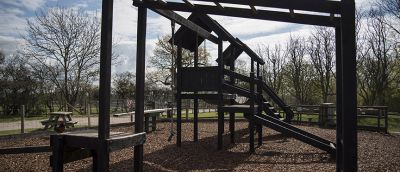 At Middle Farm see playful rabbits and guinea pigs, a giddying array of traditional and rare breed chickens, huge pigs and tiny harvest mice as well as lofty llamas, gorgeous goats, and fluffy sheep. There are timed events throughout the day, including the prize-winning herd of pedigree Jersey cows being milked each afternoon. There's a picnic area, and when you need to let off some steam there are two outdoor playgrounds and the highly popular Hay Play Barn. Middle Farm can also cater for educational visits.
Food & Drink
There are delicious home-made country recipes freshly cooked every day in the farm kitchens. Enjoy a reviving morning coffee, a lovely light lunch (there is always a vegetarian option) or a sumptuous Sussex cream tea with the now famous scones. There are smaller portions and healthy lunch boxes for smaller people.
Accessibility
There are good access facilities for the elderly and disabled.
There is ample free parking and the farm shop buildings are all within easy walking.
Offers & Events
Location
Middle Farm Firle
Lewes, BN8 6LJ