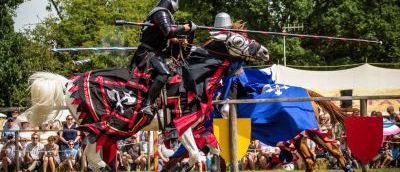 Loxwood Joust 2022
Billingshurst
The Crown of Summer 6 -7 and 13 -14 August
The UK's most spectacular immersive medieval and jousting festival. Step back in time and experience the verve and vigour of a world where lives were harsh and hearts were full of passion at this unique, fun and educational day out for all the family!
Enter the magical Kingdom of Loxwood where you will be transported back to Medieval England to interact with the townsfolk, peasants and even rub shoulders with royalty. Wander the Living History Village, where inhabitants live and work exactly as they would have in the middle ages. Witness full-contact jousting, falconry display, torture with the executioner, daring displays of weaponry, archery and cannon fire as armoured knights prepare to meet in thunderous battle.
THE CHILDREN'S KINGDOM
As well as exploring the wider festival, the young have their very own land to enjoy– a festival within a festival. Here, the currency is the medieval groat, which kids and adults can use to try Have-a-Go Archery, Face and Wound Painting, Pelt The Peasant, Sword School and The Bouncy Castle.
There's lot's more too! Find out here at Loxwood Joust
Accessibility
Wheel Chair Accessible venue
Wheel Chair Accessible Entrance
Exhibits Are Mostly At Wheelchair Height
Disabled Parking & Drop-off
Designated Disabled Parking
Accessible Toilets
Baby Changing Facilities
Loxwood Joust takes place in a flat meadow which is grassy. There are woodland paths which are suitable for wheelchairs. There are also wheelchair viewing area for the joust and battle. Grass meadow can get muddy so access is subject to weather.
There can be sudden loud noise
We have characters in costumes
Location
Loxwood Joust Meadow Loxwood
Billingshurst, RH14 0AL
This page was last updated on 25 Jan 2023