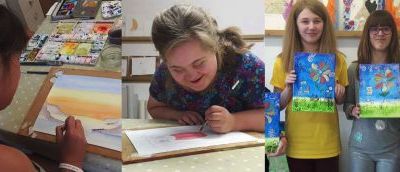 Cherry Spring Studio
Horam
A lovely art studio in beautiful and quiet surroundings offering various art workshops for children aged 5+ to adults. At the Cherry Spring Studio children are encouraged to explore and express themselves using art materials and craft work, helping promote mental and emotional growth through art making.
Food & Drink
During our regular classes please bring a bottle of water if you wish. We do have tea and coffee facilities available.
Accessibility
We recommend arranging a pre-visit to have a chance to meet us and have a look around our surrounding to see if Cheery Spring Studio is suitable for you.
Wheel Chair Accessible Entrance
Other (please specify)
We have a ramp to place over the outside step to ease your access into the studio
Disabled Parking & Drop-off
Drop-off Area
Other (please specify)
Upon arrival at Horam Manor Farm please park in one of the parking bays either by the lake or in front of the Lakeside Café and then walk up to the right of the café, the studio is located behind the café and stables.
If you are a wheelchair user please call in advance to make arrangements to drive right up to the studio. When needing direct access please drive past the Lakeside Café and stables and enter the farm courtyard, turn left and you will see the studio. It is the last black building before the fields start. Please drive up to the front of the building so the car is parked just past the door, we have a ramp to place over the outside step to ease your access into the studio.
Accessible Toilets
Other (please specify)
Toilets are large enough for wheelchair users, however there are no grip bars around the toilets and the ground from the studio across to the toilets is uneven.
Children requiring the toilet will be accompanied by one instructor to the toilet and the instructor will wait outside the toilet to take them back to the studio.
Offers & Events
Location
Charcoal Burners Barn
Horam, TN21 0JB
Gallery