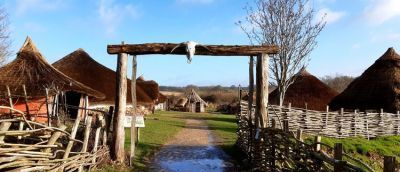 Butser Ancient Farm
Waterlooville
Butser Ancient Farm is a unique experimental archaeology site nestled into the rolling countryside of the South Downs National Park; welcoming visitors and education groups throughout the year. From it's origins as an Iron Age research site it has reconstructions of ancient buildings from the Stone Age, Bronze Age, Iron Age, Roman Britain and the Anglo-Saxon period. The buildings are internationally famous and appear frequently in documentaries and feature films. Prehistory crops are also grown and rare breeds of animals, such as goats and sheep are kept.
Carers are admitted free of charge when accompanying a disabled visitor during standard opening hours. Butser Ancient Farm is a multi-sensory visitor experience, ideal for those with a variety of learning needs and styles. All the school activities and lecture tours are designed with accessibility in mind, please contact Butser Ancient Farm to discuss any particular requirements or concerns.
Accessibility
Wheel Chair Accessible venue
Wheel Chair Accessible Entrance
Visitors can enjoy a timeline of areas starting with Stone Age, progressing through to Bronze and Iron Age roundhouses, a Roman villa and finishing with our two Saxon longhouses. Each site has interpretation boards and all areas are accessible to wheelchairs, except one small mezzanine room in the villa.
Disabled Parking & Drop-off
Designated Disabled Parking
Our car park includes disabled parking by our visitor centre, and the centre itself has a wheelchair accessible disabled toilet. We also have a wheelchair available for visitors to use which can be requested on arrival, or you can reserve it before your visit by calling 02392 598838.
Wheelchair Access to Outdoor Areas
Paths
We have characters in costumes
We also organise special re-enactment weekends on a regular basis. The re-enactors will be in costume.
Offers & Events
Location
Butser Ancient Farm Chalton Lane
Waterlooville, PO8 OBG
This page was last updated on 07 Feb 2023