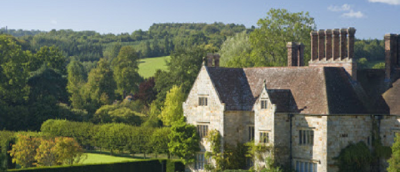 Jacobean house, home of Rudyard Kipling
'That's She! The Only She! Make an honest woman of her - quick!' was how Rudyard Kipling and his wife, Carrie, felt the first time they saw Bateman's.
Surrounded by the wooded landscape of the Sussex Weald, this 17th-century house, with its mullioned windows and oak beams, provided a much needed sanctuary to this world-famous writer and inspired his work.
The rooms, described by him as 'untouched and unfaked', remain much as he left them, with oriental rugs and artefacts reflecting his strong association with the East. Kipling wrote Puck of Pook's Hill and Rewards and Fairies at Bateman's, which includes the poem 'If'. He was awarded the Nobel Prize for literature in 1907.
Bateman's is very much a family home that feels as though the Kiplings have just gone out for the day.
Accessibility
Wheel Chair Accessible Entrance
Wheelchair Loan
The ground floor of the house is manual wheelchair friendly. There are chairs available to sit on in every room. Please speak to our friendly staff and volunteers if you want any help or assistance.
Disabled Parking & Drop-off
Blue Badge
Designated Disabled Parking
Designated mobility parking near Visitor Reception. The surface is tarmacked.
Partly accessible grounds with some brick paths.
Adapted toilet at Visitor Reception.
You are welcome to borrow a wheelchair from Visitor Reception.
Assistance dogs on short leads are permitted in all areas.
Please be aware that at busier times, to enter the house there may be a queue outdoors in the garden.
You can get a full access statement via our website.
Accessible Toilets
Baby Changing Facilities
Wheelchair Access to Outdoor Areas
Paths
There is a hearing loop in our ticket office.
Offers & Events
Location
Bateman's Bateman's Lane
Burwash, TN19 7DS
Gallery
This page was last updated on 21 Mar 2023