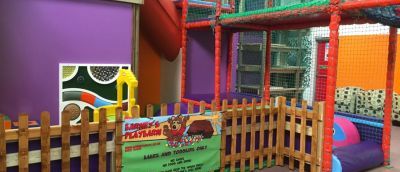 Barneys Playbarn
Uckfield
Barneys is a small family owned and operated indoor play area, suitable for babies, toddlers, preschoolers and the more grown up child. Barney's offers a role play village (age 2+), dedicated baby and toddler area, sensory area/toys, multi level climbing frame with twisty tube slide and rope bridge (recommended 5+ due to climbing access). There is no need to book before visiting Barney's. Adults are welcome on the play equipment during quieter times.
PLEASE NOTE There is a height restriction for children 1 - 10 years old of 142cm/4ft 8 in.
Parking
We have 20 Parking spaces in our car park, alternatively a free car park is just 400m away near Uckfield Bus station.
Food & Drink
We offer a range of food which is freshly prepared and cooked to order. We can cater to special dietary requirements, please ask. If you suffer with an allergy please speak to a member of the kitchen staff who can advise you of ingredients in our food. Our kitchen is not a gluten free facility; therefore we are unable to cater for celiac's
Accessibility
Wheel Chair Accessible Entrance
There is a separate door to the front of the building that is wider and wheelchair accessible.
Disabled Parking & Drop-off
Designated Disabled Parking
1 accessible parking space and a further 19 parking spaces at the venue. There is also on-road parking at the front of the building.
1 accessible toilet
We have characters in costumes
Barney's can be noisy at peak times and on rainy days, sunny afternoons are usually quieter. There are sometimes characters in costumes at parties on weekends. There can occasionally be flashing lights at disco events.
Offers & Events
Location
Bell Lane
Uckfield, TN22 1QL