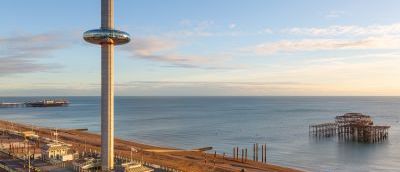 One carer or companion receives free entry when accompanying someone with a disability
Ticket prices start from £8.95 for children over four, from £12 for a young person aged 16 to 24 and from £17.95 for adults. Children under four are free of charge. A carer or companion goes free when accompanying someone with a disability.
Brighton i360
Brighton
How to claim this offer
All tickets have to be booked in advance. Use this link to book the 'Brighton i360 Carer Complimentary Ticket. If you'd like to add other tickets to your basket, select "Buy More" at the checkout page.
You can also book by phoning 03337 720 360 (no telephone booking fee will be charged). Visitors with hearing difficulties should preface the number with 18002 to use the Next Generation Text Service. Please provide as much information as possible about your access needs when you make your booking.
For special event tickets please email hello@brightoni360.co.uk or call +44 (0)3337 720 360
Take the i-go card on the day to validate the discount.
About Brighton i360
Experience Brighton's best views at Brighton i360
Glide up gently to 138 metres high in the spacious glass viewing pod to enjoy 360° views of the sea, the sky, the South Downs, and the buzz of the city below.
Whatever time of day you visit, there's so much to see and if you're lucky enough to catch the sunset from the top of the tower, you'll be treated to one of the best panoramas in the city.
The Experience lasts approximately 25 minutes, with time slots every half hour.
Learn more about Brighton i360
Accessibility
A lift and a ramp are situated to the east of Brighton i360, connecting the upper level and the beach level. The lift is situated to the east of Brighton i360, next to the West Beach Café & Bar.
There are a limited number of wheelchairs at Brighton i360 for use during your pod flight. These are available on a "first come, first served" basis from our shop and are not available to pre-book. Your credit card details must be given as security, and you may be charged up to £250 if the wheelchair is damaged or not returned.
Use this link for more information on accessibility
The nearest accessible parking is in Regency Square car park. Disabled parking is available at Regency Square Car Park and there is a subway leading from the car park through to beach level.
There is an accessible toilet on both the upper and lower levels but please note, there are no toilet facilities on the Brighton i360 pod.
Assistance dogs are permitted at Brighton i360, but please advise when you make your booking if you are bringing your dog. The dog must remain under your control at all times and you must be confident that your dog will not be distressed by travelling in the enclosed glass viewing pod.
Location
Lower Kings Road,
Brighton, BN1 2LN
This page was last updated on 03 Mar 2023