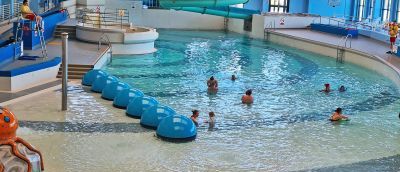 Disability Rate for Swimming of £2 Plus 1 Carer Goes Free.
i-go cardholder can pay the disability rate for swimming which is currently £2, and one carer can go free
Sovereign Centre
Eastbourne
How to claim this offer
Show i-go card on entry at reception, or you can book a disabled swim rate online and show your i-go card on arrival. Remember to take your card!
About Sovereign Centre
The Sovereign Centre is a large leisure centre offering a wide range of facilities including a gym, fun pool with wave machine and flume, Aqua Challenge inflatable assault course, 25 meter gala swimming pool, diving pool, swimming lessons, gymnastics lessons, sauna and steam room, workout studio, junior gym, birthday parties, cafe and much more! Book here.
Centre Opening Times
​Monday to Friday
Centre - 06:30-21:30
Gym - 06:30-21:30
Pools - Please see pool timetable page
Cafe - Mon to Thur 09:30-18:30 Fri 09:30-19:30
Cafe hot food Mon to Thur 11:00-18:00 Fri 11:00-19:00
​Saturday and Sunday
Centre 07:00-18:00
Gym 07:00-18:00
Pools - Please see pool timetable page
Cafe - 09:00-18:00 hot food 11:00-17:15
Learn more about Sovereign Centre
Accessibility
Wheel Chair Accessible venue
Wheel Chair Accessible Entrance
Automatic wide entry doors with low level button and flat access.
There is a wheelchair gate allowing easier access to poolside, which has some hand rails around it.
The Fun Pool changing rooms in the Family changing area include large disabled changing rooms (without grab handles) and larger size group cubicles.
Low vanity areas and low level lockers are available.
Access to the poolside is ramped with rails. There are level open showers on poolside. Access into the water at the deep end is down steps with rails. There is also a gently sloping lagoon style entrance to the fun pool, pool wheelchairs can be wheeled straight into the water (at own risk). Water in this pool is heated to 30%C which is warmer than average.
Poolside chairs can be requested from the Lifeguards.
In the older part of the building (the training pool area) there are cubicles with grabrails and a disabled shower with grab rails, safety cord and low sink. There is a gully across the entrance to this shower which causes a slight dip.
Accessible Toilets
Grab/Drop Down Rails
Wheelchair Access to Outdoor Areas
There is a step to access the outdoor grass area.
There can be sudden loud noise
Music in fun pool and splashing water. There is music in the gym.
Location
The Sovereign Centre Royal Parade
Eastbourne, BN22 7LQ
This page was last updated on 08 Sep 2022