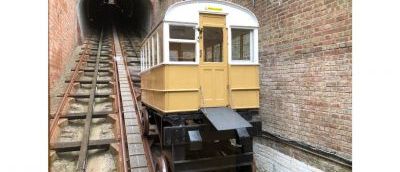 A Child Return  £1.85 Per Ticket (instead of £2.50) and Adult Return £2.75 Per Ticket (instead of £4.00)
A Child Return £1.85 per ticket (instead of £2.50)
Adult Return £2.75 per ticket (instead of £4.00)
Cliff Railways - West Hill
Hastings
How to claim this offer
Pay on arrival, Currently the lifts are only accepting payment by card.
Terms and conditions
Not to be used with any other offers.
About Cliff Railways - West Hill

The United Kingdom's steepest funicular railway, the West Hill Lift has its original wooden Victorian coaches, and also runs through a tunnel, which is very unusual for a funicular railway.
The lift's lower station is in traffic-free George Street which is full of continental-style cafés, art shops and bookshops.
The West Hill itself offers some of the town's most remarkable views, stretching round to Beachy Head in the west and out across the Channel.
Learn more about Cliff Railways - West Hill
Accessibility
The west hill lift has fifteen steps at the top on exit.
The carriages are original with doorway's that are only about 20 inches wide so are not wheelchair accessible

Disabled Parking & Drop-off
Blue Badge
Designated Disabled Parking
Drop-off Area
Accessible Toilets
Grab/Drop Down Rails
Baby Changing Facilities
Accessible toilet at top
Location
The West Hill Lift George Street
Hastings, TN34 3EA
This page was last updated on 10 May 2022