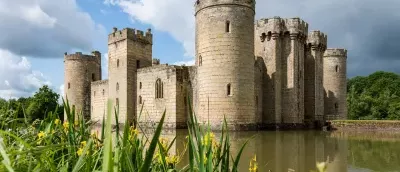 Up to 2 Carers Go Free, Free Admission for Accompanying Children and Free Parking
2 carers go free with every i-go cardholder and free parking. You will also get free admission for accompanying children in your group (children are aged 17 and under).
Bodiam Castle
Robertsbridge
How to claim this offer
Terms and conditions
This offer is not to be used in conjunction with any other offer.
About Bodiam Castle
Set in the heart of an historic landscape, with spiral staircases, battlements and a portcullis, 14th century Bodiam Castle is one of Britain's most picturesque and romantic ancient monuments. Windows where arrows were once loosed, a tower that was once a look-out and ruins that were once walked upon by knights; this is a place where you can relive your childhood memories and let your imagination run riot.
Bodiam Castle was saved from demolition by the MP John 'Mad Jack' Fuller, who bought the castle at auction in 1828. Fuller – an anti-abolitionist who held extreme views on the benefits of slavery – inherited huge wealth made from slavery in Jamaica, and he continued to profit from the sugar trade during his life.
In the impressive gatehouse is the castle's original wooden portcullis, an extremely rare example of its kind and, beyond into the courtyard, enough of the interior ruins survive to give an impression of castle life.
Learn more about Bodiam Castle
Accessibility
There are two manual wheelchairs available for loan, one at visitor reception, the other at castle cottage.
Disabled Parking & Drop-off
Designated Disabled Parking
Five designated mobility parking spaces in the main car park next to the tea-room and gift shop.
Accessible Toilets
Baby Changing Facilities
Accessible toilet in the main car park next to the tea-room.
There is a hearing loop in our Ticket Office
We have characters in costumes
Location
Bodiam,
Robertsbridge, TN32 5UA
This page was last updated on 09 Jun 2022