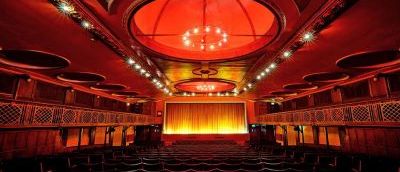 10% OFF
10% off food and drink at the Kiosk and Projectionist's Bar
The Dome Cinema
Worthing
How to claim this offer
Show i-go card at the Kiosk and Projectionist's Bar
Terms and conditions
This offer can not be used in conjunction with any other offer.
About The Dome Cinema
The stunning Edwardian cinema first opened in April 1911 and has been fully restored to its former glory and is once again open to the public.
With a friendly team of staff, this is certainly the place to go and be entertained with your film of choice. There are three screens, including the opulent main auditorium, seating 500, the more intimate Screen 2, with newly refurbished Premier seating, and the new Screen 3, with 41 seats (including some double seats) and wall-to-wall picture.
First opened on April 15, 1911, as a multi-purpose entertainment hall, know as The Kursaal, the building's primary use was a roller skating rink, with live music and theatre also a popular use. In October of 1911, a small cinema was opened upstairs, showing silent movies daily, often accompanied by the building's owner, Carl Seebold, on piano. Due to the popularity of cinema in the early part of the century, the building was transformed in 1921 so that the cinema was downstairs, and this is largely what is seen today.
Though the building went through some hard times (including 2 world wars and numerous attempts by the council to knock it down to redevelop the area), The Dome was lucky enough to secure lottery and Heritage funding, allowing a full restoration of the building in 2005. During the restoration, they were able to install a lift - very rare in a Grade II* listed building. As a result, we now have superior disabled access to all screens, with Screen 1 and Screen 3 on the ground floor, offering step-free access, and Screen 2 serviced by the lift.
Learn more about The Dome Cinema
Accessibility
Wheel Chair Accessible venue
Wheel Chair Accessible Entrance
Wheelchair Accessible Lift
There is superior disabled access to all screens, with Screen 1 and Screen 3 on the ground floor, offering step-free access (although due to tiering in Screen 3, only the front row is step-free once in the auditorium), and Screen 2 is serviced by the lift.
Accessible Toilets
Baby Changing Facilities
There is a changing places toilet directly opposite The Dome on the promenade. Inside the building we have accessible toilets and baby changing facilities on both the ground and first floor
We have a hearing loop system in Screen 3, providing audio description for sight-impaired customers or hearing loop for hard of hearing customers. Our other screens will have this technology soon
Hearing loop
Audio Description
Relaxed Performances
Special Sessions
AUTISM FRIENDLY SCREENINGS
For those on the autistic spectrum and with learning disabilities - along with their families and friends. These screenings run one Saturday a month. Tickets are charged at peak pricing.
Disability Friendly Screenings run with reduced volume and with the lights left on low during the film, to provide a relaxed space for guests to enjoy their film of choice. These screenings run in our intimate Screen 3, which features 2 wheelchair spaces. Due to the restricted capacity, only those on the autistic spectrum or with learning disabilities (and their carers, family or friends) may attend. Those customers requiring a wheelchair space are advised to pre-book as early as possible.
The screenings run without any adverts and trailers, so the actual film will begin at the advertised programme time.
Location
21-22 Marine Parade
Worthing, BN11 3PT