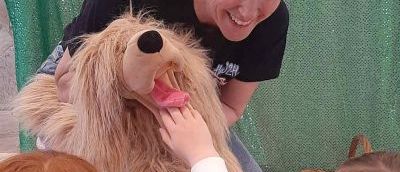 Wizard of Oz Sensory Storytelling and Crafts Friday 14 April, Hadlow Down for Age 2+
Journey to the land of Oz in this twisted sensory take on the classic novel. Make friends with the Lion, The Scarecrow and the Tin man and click your sparkly shoes together to return back home to Kansas in time for tea and cake.
Using a mix of simple narrative and Makaton signing, our highly engaging sensory storyteller will create an easy to follow and playful experience so everyone can be a part of the story. Followed by a crafts session where you can make and take home your own scarecrow or hot air balloon.
All materials will be supplied for the crafting activity, and if children would like to bring their own Toto the dog (or any soft toy) and a cushion to sit on, then they can.
Ticket Price £5 per child (accompanying adult free of charge). Book online here
There is no i-go offer for this event but the free interactive game and free multi sensory video are still available. Head2Head are also performing The Chicken Circus at the Brighton Fringe Festival and tickets are free. Find out more here
About SEND Session
Timings are:
11am – 11.30am – Storytelling
11.30am – 12pm – Crafting
2pm – 2.30pm – Storytelling
2.30pm – 3pm – Crafting
4pm – 4.30pm – Storytelling
4.30 – 5pm – Crafting
At Hadlow Down Village Hall, Hall Lane, Hadlow Down, Uckfield, TN22 4HG
About Head2Head Sensory Theatre
Head2Head makes theatre that is fully accessible and inclusive for all, offering immersive and multi-sensory productions that are lively and full of fun for everyone. Enjoy the magic of theatre, experience the sights, sounds and scents of a different world.

Learn more about Head2Head Sensory Theatre
Accessibility
Live performances are given in special schools and are inclusive, accessible and multi-sensory. Professional actors use Makaton and other communication aids.
Virtual and Interactive activities can include Makaton signing and versions with a sign interpreter. Packs are also given in advance that include a Widgit storyline and guidance on how to help participants enjoy the interactive and sensory elements of the video. See website and individual shows for more details.