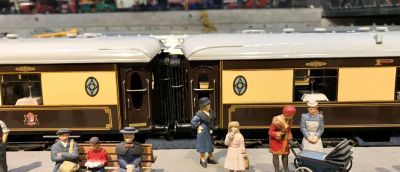 SEND sessions at Brighton Toy Museum on Some Saturdays
The museum opens one hour earlier than usual for families to enjoy in a calmer, quieter and more relaxed environment.
The early opening will take place on the following Saturdays, where the museum will open at 10am for SEND families:
Saturday 4th February
Saturday 4th March
Saturday 1st April
From 11am the museum will open to all, but you are welcome to stay for as long as you like.
i-go card holders already get a fantastic discount on their entry tickets, along with one free carer entry, but on these special SEND sessions card holders will receive an extra 10% discount. You don't need to book in advance, just turn up on the day and make sure you take your Compass Card with you. To see the general i-go offer visit our offer's page here.
To help prepare for your visit you can watch this short video, showing what you can expect.
About Brighton Toy and Model Museum
A visit to Brighton Toy Museum will take you on a tour of four Victorian cellars under Brighton station covering four thousand square feet and an awe inspiring collection of over ten thousand items. Visiting the museum is an immersive visual experience that plunges the visitor into a different world, as seen through the eyes of artists and designers responsible for the Golden Age of British and European toy making.
The Toy Museum also has regular early opening sessions for SEND families. See more in i-go SEND sessions.
Learn more about Brighton Toy and Model Museum
Accessibility
Wheel Chair Accessible venue
Wheel Chair Accessible Entrance
Exhibits Are Mostly At Wheelchair Height
Mostly wheelchair accessible (not suitable for mobility scooters)
The entrance foyer to the main museum consists of 6 steps with handrails on either side. The wheelchair access into the museum is via ramp through the emergency fire exit.
The museum is underneath Brighton Station and there is disabled parking in the Station car park.
There is also a 1 way road opposite the museum entrance that has double yellow lines on both sides.
Accessible Toilets
Baby Changing Facilities
The accessible toilet has metal hand rails on the wall next to the toilet and sink. It also has chair that can be used for extra support/changing and can be moved around the space (or out of it) if required.
Handrails are on the stairs
You can prepare for your visit or see what to expect before you go view video
There are cabinets that include dolls and puppets which some may find distressing, but they are in 1 corner of the museum and can be by-passed.
Location
52-55 Trafalgar Street
Brighton, BN1 4EB