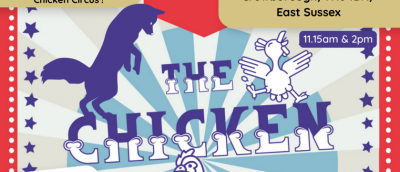 Multi Sensory Show Chicken Circus 26 March at Grove Park School Crowborough
The Chicken Circus is the colourful tale of Mr Fox who steals chickens so he can train them as circus performers.
The Makaton Friendly show is an inclusive, high energy, interactive sensory performance written especially for a special needs and disabilities (SEND) audience. A hilarious and very popular show using bright sets, puppetry, music, sensory props and costumes that stimulate and encourage participation.
A professional acting team will use Makaton signing, pre-recorded Voice Output Communication Aids and multi-sensory experiences to bring this story to life, making it accessible to everyone.
A resource pack will prepare your child for the show and there is a chill-out zone available for anyone requiring a break during the performance.
Performances
11.15am
Cost
£8 per person (free for under 2's) for all shows except the Brighton Fringe which is a free event. Book tickets online here
Follow this link for more information about the Free performance at Brighton Festival
About Head2Head Sensory Theatre
Head2Head makes theatre that is fully accessible and inclusive for all, offering immersive and multi-sensory productions that are lively and full of fun for everyone. Enjoy the magic of theatre, experience the sights, sounds and scents of a different world.

Learn more about Head2Head Sensory Theatre
Accessibility
Live performances are given in special schools and are inclusive, accessible and multi-sensory. Professional actors use Makaton and other communication aids.
Virtual and Interactive activities can include Makaton signing and versions with a sign interpreter. Packs are also given in advance that include a Widgit storyline and guidance on how to help participants enjoy the interactive and sensory elements of the video. See website and individual shows for more details.