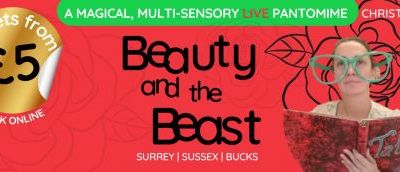 Beauty and the Beast Panto at Various Venues - Multi sensory show for Children with SEND/Disabilities
BEAUTY AND THE BEAST – THE PANTO
A MAGICAL MULTI-SENSORY SHOW FOR CHILDREN WITH SEND/DISABILITIES
A traditional pantomime tale accessible to all (ages 0-adult)
Head2Head Sensory Theatre returns this winter with a new multi-sensory pantomime – Beauty and the Beast created especially for children and families with SEND/disabilities but accessible to everyone.
Join Belle, Hettie Harpic the Housekeeper and Fairy Fifi as they encounter the Beast! Stir up a stew, gad around a garden, feed some chickens, dabble in decorating, battle evil sprites, save the Beast before the last petal falls and much much more.
Enjoy a storyline filled with sensory moments, songs and silliness, led by Head2Head's professional cast, experienced in performing for children with special educational needs (SEND).
Times: 11:15am and 2pm
Venues:
Grove Park School, Crowborough on Saturday 26th Nov 2022
Queen Elizabeth II Silver Jubilee School, Horsham on Sunday 27th November 2022
Heritage House School, Chesham, Bucks on Saturday 3rd December 2022
Manor Mead Special School in Shepperton, Surrey on Sunday 4th December 2022
Manor Green College, Ifield, Crawley on Sunday 11th December 2022
the cornerHOUSE, 116 Douglas Road, Surbiton on 17th December 2022
Quarrendon and Meadowcroft Community Centre, Aylesbury on Monday 19th Dec
About SEND Session
All shows are Makaton signed and there is a Chill-Out Zone available for anyone requiring a break.
Price
Tickets are priced from £5 per person (which includes an advance show pack)
You can still also get the i-go offer of a free online game here
Plus there's a completely free online multi-sensory video - Odie's Odd Odyssey. More information here
Find out how to book here
About Head2Head Sensory Theatre
Head2Head makes theatre that is fully accessible and inclusive for all, offering immersive and multi-sensory productions that are lively and full of fun for everyone. Enjoy the magic of theatre, experience the sights, sounds and scents of a different world.

Learn more about Head2Head Sensory Theatre
Accessibility
Live performances are given in special schools and are inclusive, accessible and multi-sensory. Professional actors use Makaton and other communication aids.
Virtual and Interactive activities can include Makaton signing and versions with a sign interpreter. Packs are also given in advance that include a Widgit storyline and guidance on how to help participants enjoy the interactive and sensory elements of the video. See website and individual shows for more details.