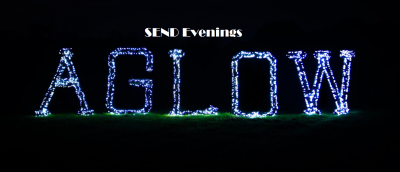 5th January - Aglow Light Trail Send Evening (with Train)
Join us at one of our Extraordinary SEND Evenings.
Step into a world of comfort, understanding, and shared experiences at our exclusive Special Educational Needs & Disabilities (SEND) evening, designed especially for children with additional needs or disabilities and their families.
About SEND Session
Event Highlights:
A Night of Tranquillity: We're excited to offer you a uniquely peaceful atmosphere. Our visitor numbers will be purposefully limited to ensure a relaxed environment for all attendees. We'll have quiet zones and extra staff on duty.
Sensory Delights: We understand the importance of sensory sensitivity. That's why we're foregoing loud music to ensure a serene soundscape that everyone can enjoy. In addition, there will be reduced flashing lights and lasers.
A Train-Free Haven: On 15th November, to further elevate the comfort of our guests, the train will be taking a break for the evening. This way, you can explore our venue without any disruptions.
Train Adventure for the Train Enthusiasts: For our young explorers who would enjoy the train, we're delighted to offer an optional train ride experience during our SEND evening on 5th January 2024. While the train does create a noise that some may find distressing, we also understand that some children thrive on the sensory experience it brings. The train will run at a gentle pace to ensure the comfort for everyone.
Note: For safety reasons, the train horn must sound as it approaches each of 3 pedestrian crossing points on the trail. The driver will only use the horn at these points, and will not sound the horn in the tunnel or at any other time on the journey. If you believe that the train noise might be overwhelming for your child, please book our train free evening on 15th November.
Price
TICKET PRICES
Individual Light Trail Entry £8.00
Disabled Individual Light Trail Entry (with 1 Free Carer) £8.00
Under 3 years - Individual Light Trail Entry Free
Annual or Day Pass Holder Individual Light Trail Entry £5.00
Annual or Day Pass Holder Disabled Light Trail Entry (with 1 free carer) £5.00
Terms and conditions
i-go offer is not included in during the SEND evenings.
About Paradise Park, Newhaven
Paradise Park has a variety of attractions for all ages. There's a Dinosaur Safari where you can relive prehistoric times with life size dinosaurs and sounds of the Jurassic Age. You can discover the fascinating world of animals and plants from millions of years ago to the present day in the Museum of Life. The Sussex Heritage Trail meanders through the beautiful themed gardens packed with flowering trees and shrubs, and the plant houses contain spectacular collections of the world's flora. Children's activities include crazy golf, miniature railway, soft play area, indoor and outdoor play areas and amusements. Visit the garden centre with terrace cafe overlooking the gardens.
Learn more about Paradise Park, Newhaven
Accessibility
Wheel Chair Accessible venue
Wheel Chair Accessible Entrance
Disabled Parking & Drop-off
Designated Disabled Parking
There is a large car park to the front of Paradise Park with accessible bays outside the entrance.
Accessible Toilets
Grab/Drop Down Rails
Baby Changing Facilities
Wheelchair Access to Outdoor Areas
Paradise Park is mostly step free; there are a few steps in the gardens that can be bypassed.
There can be sudden loud noise
Some of the dinosaurs roar. The person on the entry desk will advise how you can avoid these dinosaurs but still access the rest of the facilities. There are other options depending on need.
Location
Avis Road
Newhaven, BN9 0DH