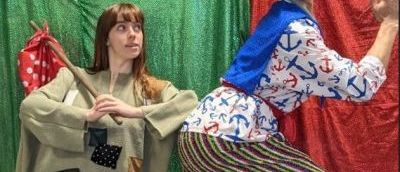 Dick Whittington Online Pantomime
Sun 11 Dec - Sun 11 Dec
An interactive, multi-sensory pantomime video for families of children with SEND
Includes a 30 minute 'Prepare for your Panto!' Zoom session
Go on a journey with Dick Whittington, Tommy the Cat and Dame Dolly Dumpling as they come face to face with adventure. March the mucky roads of London, bake a yummy cake, set sail aboard the Saucy Sally, swim to the shores of Morocco, tackle King Rat and much more.
Enjoy a show cram-packed full of multi-sensory and interactive moments, songs and silliness, led by a professional cast experienced in performing for children with SEND.
When?
Sessions will be available on Sunday 11 December 2022 at 10.30am, 11.30am, 2pm and 3pm
Please ensure you have access to the internet with Zoom including a camera, microphone and speakers.
The 60 minute interactive video is performed by actors using Makaton signing and will include access to a Resource Pack including guides on how to take part in all the interactive and sensory elements of the video and finding or making items prior to viewing.
The pack also includes:
Widgit stories

Song lyrics

Fun activities for everyone
To help children familiarise with the pantomime, the experience includes a 30 minute 'Prepare for your Panto!' Zoom session when participants will:
Meet 'Tommy the Cat'

Take part in a warm-up

Join in with some signed songs, such as 'London Town'

Rehearse pantomime character roles to make the video experience fully interactive and fun
Head2Head Sensory Theatre
Price
Booking
About Head2Head Sensory Theatre
Head2Head makes theatre that is fully accessible and inclusive for all, offering immersive and multi-sensory productions that are lively and full of fun for everyone. Enjoy the magic of theatre, experience the sights, sounds and scents of a different world.

Learn more about Head2Head Sensory Theatre
Accessibility
Live performances are given in special schools and are inclusive, accessible and multi-sensory. Professional actors use Makaton and other communication aids.
Virtual and Interactive activities can include Makaton signing and versions with a sign interpreter. Packs are also given in advance that include a Widgit storyline and guidance on how to help participants enjoy the interactive and sensory elements of the video. See website and individual shows for more details.