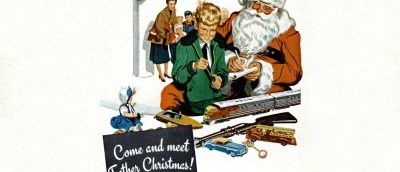 Father Christmas at the Brighton Toy Museum
Sat 2 Dec - Sun 3 Dec
Join Us for a Magical Encounter with Father Christmas! at the Brighton Toy Museum
Time: 2:00 pm - 4:00 pm (Sat/Sun) 11:00 am - 1:00 pm (Sun)
Get into the holiday spirit and create cherished memories with your family at the Brighton Toy Museum! Father Christmas is coming to town, and he's bringing festive joy to our enchanting museum.
What to Expect:
* Meet and Greet with Santa Claus
* Presents for Children (suitable for ages 3+)
* Photo Opportunities
* Festive Toy Displays
Don't miss this special opportunity to share your Christmas wishes with Santa in a charming, toy-filled setting! Reserve your tickets now and make this holiday season unforgettable. See you there!

Brighton Toy and Model Museum
Brighton
Price
* Children: £15 (Including Meet and Greet + Present)
* Children: £5 (Standard Admission)
* Accompanying Adults: £8
* Accompanying Senior (60+): £7
i-go offer doesn't apply
Booking
About Brighton Toy and Model Museum
A visit to Brighton Toy Museum will take you on a tour of four Victorian cellars under Brighton station covering four thousand square feet and an awe inspiring collection of over ten thousand items. Visiting the museum is an immersive visual experience that plunges the visitor into a different world, as seen through the eyes of artists and designers responsible for the Golden Age of British and European toy making.
Learn more about Brighton Toy and Model Museum
Accessibility
Wheel Chair Accessible venue
Wheel Chair Accessible Entrance
Exhibits Are Mostly At Wheelchair Height
Mostly wheelchair accessible (not suitable for mobility scooters)
The entrance foyer to the main museum consists of 6 steps with handrails on either side. The wheelchair access into the museum is via ramp through the emergency fire exit.
The museum is underneath Brighton Station and there is disabled parking in the Station car park.
There is also a 1 way road opposite the museum entrance that has double yellow lines on both sides.
Accessible Toilets
Baby Changing Facilities
The accessible toilet has metal hand rails on the wall next to the toilet and sink. It also has chair that can be used for extra support/changing and can be moved around the space (or out of it) if required.
Handrails are on the stairs
You can prepare for your visit or see what to expect before you go view video
There are cabinets that include dolls and puppets which some may find distressing, but they are in 1 corner of the museum and can be by-passed.
Location
52-55 Trafalgar Street
Brighton, BN1 4EB