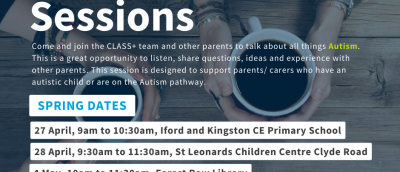 CLASS+ Coffee and Chat
Sat 27 May - Tue 20 Jun
Come and join the CLASS+ team and other parents to talk about all things Autism. This is a great opportunity to listen, share questions, ideas and experience with other parents. This session is designed to support parents/carers who have an autistic child or are on the Autism Pathway. Sessions are at different schools as follows:
27 April 9am - 10.30am Iford and Kingston CE Primary school
28 April 9.30am - 11.30am St Leonards Children's Centre Clyde Road
4 May 10.30am - 11.30am Forest Row Library
17 May 9.15am - 10.45am Plumpton school Lewes
24 May 1.15pm - 2.45pm All Saints CE primary school Bexhill
20 June 9am - 10.30am Hellingly Primary school
CLASS+
Lewes
About CLASS+
CLASS+ works across East Sussex to support families/carers of Autistic children and young people.
Their aim is to provide guidance and training that enables families/carers to build their understanding of the strengths and challenges faced by Autistic children and young people and to develop greater confidence in how to support them. The team is part of the CLASS service.
They offer:
Weekly advice line on a Monday 10-1pm
Phone consultations
Virtual calls
Signposting
Workshops for parents
Facebook page
Parent/Carer advice provided through short pieces of home-based support where appropriate
How parents/carers can access support from CLASS+
Contact CLASS+ on 01273 336887 and a member of the admin ISEND admin team will forward your details CLASS+ who endeavour to respond to parents as quickly as possible but do operate a waiting list during busy times.
Accessibility
Location
county hall lewes
Lewes, BN7 1JZ