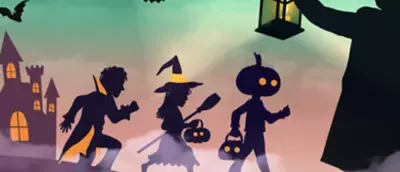 Battle Abbey & Halloween Half Term
Sat 21 Oct - Sun 29 Oct
Grab your broomsticks and get ready for a bewitchingly brilliant day out. Gather round for tales from our spooky storytellers and solve creepy clues in our Halloween Quest.
1066 Battle Of Hastings, Abbey and Battle Field
Battle
Price
Prices starting from:
Adult - Admission £12.70
Concession (Students or 65+) - Admission £11.30
Child - Admission £7.70
Under 5'S Admission £0.00
i-go offer of one carer goes free applies
Please note the price you'll pay for your ticket depends on the day you want to visit.
Booking
About 1066 Battle Of Hastings, Abbey and Battle Field
In the year 1066, the armies of King Harold and William the Conqueror clashed at the Battle of Hastings. Now you can stand on the very site where this decisive struggle was fought and England's future decided. Explore abbey ruins and meet the Normans and Saxons on our sculpture trail. Enjoy the gatehouse exhibition revealing the abbey's role in the country's future, then head to the roof for stunning views of the battlefield. Allow the stories of battle to unfold and discover its atmosphere for yourself.
Learn more about 1066 Battle Of Hastings, Abbey and Battle Field
Accessibility
Mobility scooters available for loan. Wheelchair users should enter the site through the Gatehouse (please ring the bell), where they will be met by a member of staff. Access around the site is via gravel pathways avoiding steps and is often on steep slopes. There is a suggested route for visitors with limited mobility shown in the guidebook and site leaflet.
Disabled Parking & Drop-off
Designated Disabled Parking
Gravel and grass pathways, with some steep gradients. The battlefield itself has very rough ground. This may be viewed from Lower Terrace.
Other (please enter deails below)
Tour transcripts available
Location
High Street
Battle, TN33 0AD